Originally published at: https://blog.12min.com/top-motivational-books/

We've already made two lists which people interested in this one will certainly like to check out: top mindfulness books and top inspiring books. In fact, some may say that we made this list merely to add few books which we didn't have the chance to include in these two.
And, if we're perfectly honest, they may be right. But, who cares?
In a world of so many crises and misfortunes, so much suffering and put-me-down people, motivation and inspiration are two things all of us need on a daily basis. And even if we repeat ourselves, we know how helpful these books can be. And, we tend to recommend them to you as many times as necessary.
Because, you see, we know that they can inspire you to change your life. And there's nothing we're more interested in than seeing you happy.
So, here are our picks for the 15 top motivational books out there.
#1. "Drive: The Surprising Truth About What Motivates Us" by Daniel H. Pink
Daniel H. Pink
is a behavioral scientist and one of the most provocative thinkers of our age. And "Drive" is his best-known and already classic study in the topic which interests us most for this list.
Throughout the book, Pink challenges the conventional idea that motivation stems from external impulses, such as money or rewards and punishments. Through numerous examples, he demonstrates that while this might be true – and mostly in the case of mechanical jobs – it is only true to a certain extent.
However, "artists, scientists, inventors, schoolchildren, and the rest of us" are evidence to the even counter-intuitive notion that money and rewards may have a detrimental effect on our motivation. In other words, in their case, motivation is something intrinsic.
Or, to put it in laymen's terms, we want to do stuff simply because we want to do it. And because one of the most typical human characteristics is an innate love for autonomy, mastery, and purpose.
#2. "As a Man Thinketh" by James Allen
James Allen
died more than a century ago. So, if we're including him in our list, you are pretty safe in assuming that motivational books today would have been a lot different had he not existed.
Allen's 1902 classic "As a Man Thinketh" is oftentimes referred to as "the original bestseller." Quite a burden to carry, but it seems as if the book has no problem bearing it. In fact, it's still widely read and it has inspired so many motivational authors that it's impossible to even list them here.
It's quite easy to relate the philosophy behind "As a Man Thinketh." Based on the idea that every man has a substantial – if not total – responsibility for the events that happen to him during his life, it offers practical advice on how you can improve yourself and, consequently, improve your fate.
What is difficult is to speak about James Allen's style. Sometimes epigrammatic and sometimes even biblical, you can be sure that it will strike a chord deep within your heart and soul.
#3. "Rising Strong: How the Ability to Reset Transforms the Way We Live, Love, Parent, and Lead" by Brené Brown
In the world of motivational thinkers,
Brené Brown
is all but a legend.
To quote some of the reviews, "with a fresh perspective that marries research and humor," she has "given us a new vocabulary, a way to talk with each other about the ideas and feelings and fears we've all had but haven't quite known how to articulate."
"Rising Strong" is her call for "a critical mass of badasses who are willing to dare, fall, feel their way through tough emotion, and rise again." And the rising process she suggests is a simple 3R procedure. First, you reckon with your emotions; then you rumble with your stories; and, finally, you revolutionize your existence.
Trust Brown: stories have an immense power to help us fight through traumas. Just have a look at our top biographies booklist: one of those books has helped a girl conquer rape and racism. And become one of the most famous poets of the 20th century.
#4. "You Are a Badass: How to Stop Doubting Your Greatness and Start Living an Awesome Life" by Jen Sincero
If Brown wanted a little help from the badasses of the world to help you become one yourself, she couldn't have found a better assistant than
Jen Sincero
. A #1 New York Times bestselling author, Sincero is a motivational coach who has helped numerous people worldwide transform their lives and finally experience happiness.
And "You Are a Badass" was her debut book, followed by a more recent companion volume, "You Are a Badass at Making Money." Both will motivate you to start achieving your dreams, but, we believe, the first one a bit more thoroughly.
Hilarious and inspiring, "You Are a Badass' is a 250-page tour-de-force of inspiration, shared out in 5 parts and 27 chapters. Through quite a few inspiring stories, wise advices and simple exercises, Sincero goes on a mission to teach you "how you got this way," "how to embrace your inner badass," "how to tap into the motherlode," and "how to get over your b.s. already."
You know, the lot which will help you learn "how to kick some ass."
#5. "Grit: The Power of Passion and Perseverance" by Angela Duckworth
And one more book about falling seven times, and getting up eight. And just like in the case of #3, this one is also written by a Ph.D.
Angela Duckworth is not your ordinary fellow. She is University of Pennsylvania's Christopher H. Browne Distinguished Professor of Psychology and a 2013 MacArthur Genius Fellowship awardee. And, need we add, she is a regular speaker at many conferences and Fortune 500 companies' meetups, in addition to advising few NFL and NBA teams.
But, why are her studies so interesting to so many important and prosperous people?
Well, because she claims that talent is only one part of the equation for success. Moreover, it may even be the least important part. As she repeatedly shows in "Grit," the ones who succeed are rarely the ones who are the best.
It's the ones who are the grittiest. Or, to clarify it a bit, the ones with the passion and the perseverance to succeed.
#6. "Who Moved My Cheese?" by Spencer Johnson
Even though it's not exactly true,
Spencer Johnson
's "Who Moved My Cheese?" is widely considered to have been the first motivational business fable. And that speaks volumes of its influence and the impact it had both on many motivational authors and people searching for some motivation.
A very short 32-page barely illustrated story, "Who Moved My Cheese?" tells the story of two mice (Sniff and Scurry) and two little people (Hem and Haw). They live in a maze and are in a constant pursuit for cheese. After they find a whole bunch of it, the little people seem quite content with the discovery, while the mice are already thinking about the day they'll have none.
Sure enough, that day comes. And the little people have no choice but to learn how to deal with the scarcity of food. One of them deals with it better. And tries to motivate the other.
And, much more importantly, by way of proxy, you.
#7. "The Last Lecture" by Randy Pausch
What if you suddenly find out that you have barely few months left to live on this planet? We know what you're thinking: there are so many things I'd do, so many dreams I have yet to achieve. Well, what's stopping you know?
In a nutshell, that's the question Randy Pausch, a computer science professor at Carnegie Mellon, thinks is the most important one you can ask yourself. And the question he tried to answer in a one-hour talk he gave before a packed audience, merely 8 months before he passed away.
And, in case you're wondering: yes, Pausch knew he was going to die when he was giving that speech. In fact, that's what makes his lesson both so poignant and so motivating. Just seeing his cheerfulness in face of the ultimate adversity may be enough.
Well, "The Last Lecture," written over the last months of his life, packs this sentiment in the best way possible. It's so good, in fact, that we can honestly say to you this: if Pausch can't motivate you to start achieving your dreams, well, we don't know who can.
#8. "Don't Sweat the Small Stuff . . . and It's All Small Stuff: Simple Ways to Keep the Little Things from Taking Over Your Life" by Richard Carlson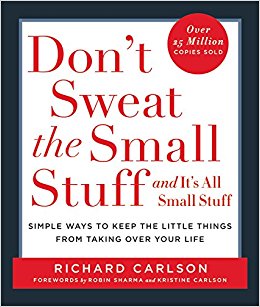 A famous Russian writer once said that he writes his stories in order to show that there are some big things in life which people think small; and, that there are some small things which people confuse for big.
Richard Carlson, a renowned psychotherapist and motivational speaker, spent almost all of his (unfortunately short) life studying the latter. One of the most famous stress management trainers in the U.S., he successfully summarized his philosophy in the trademarked title of his most famous book: "Don't Sweat the Small Stuff… and It's All Small Stuff."
Profoundly believing that "stress is nothing more than a socially acceptable form of mental illness," Carlson goes on to show how important is to calm down and chill out; and how you can't start before eliminating "the noise in the system."
True, the idea is simple, but so is Carlson's style. Which makes both for an enjoyable and an inspiring read.
#9. "The Monk Who Sold His Ferrari: A Fable About Fulfilling Your Dreams & Reaching Your Destiny" by Robin Sharma
Happiness is not something material. And yet, strangely enough, most people believe that only material things can help you achieve it.
But, take a lesson from Robin Sharma's book. A litigation lawyer until 25, he gave up his career to write motivational books. Because, he suddenly realized that law is not his cup of tea, and that self-perfection is something everybody should pursue – even though very few people actually do.
In a novelistic fashion, "The Monk Who Sold His Ferrari," retells the story of Sharma's personal transformation. A motivational fable, it's a conversation between two friends, Julian and John, during which the first one, a successful trial lawyer, recounts to the second one how he sold his Ferrari and his holiday home after suffering a heart attack.
And how that decision was the best in his life, because it funded a Himalayan journey which will, ultimately, change his whole perception about himself – and life itself.
Like this summary? We'd like to invite you to download our free 12 min app, for more amazing summaries and audiobooks.
#10. "Choose Yourself: Be Happy, Make Millions, Live the Dream" by James Altucher
We have had a great relationship with
James Altucher
right from the start of getnugget.co.
We've learned quite a few things
from him just after meeting him, and you could say that, in time, he became
a sort of a mentor to us
.
But, still, nobody can blame us for nepotism for including his 2013 "Choose Yourself" in a list of the 15 best motivational books of all time. After all, we've passed on the opportunity to include it among our top business books, even though "USA Today" called it one of the 12 best business books in history.
Rife with interviews and life lessons, "Choose Yourself" is one of the best self-improvement and motivational books you'd ever read. The basic premise is, once again, quite simple (just see the title), but the way it's related and the sheer force of the arguments is compelling.
Because, as Altucher says, if there ever was a time in history when you could choose yourself – that time is today.
#11. "The Power of Positive Thinking" by Norman Vincent Peale
Norman Vincent Peale
is one of the fathers – nay, grandfathers – of motivational writing. And there are so many people who have listed "The Power of Positive Thinking" as a defining influence in their lives that's really impossible to ignore it.
Published in 1952, "The Power of Positive Thinking" is, in a way, the book which first structured the philosophy which brought us books such as, say, "The Secret," and, which is most succinctly presented in its very title.
Unlike James Allen, Norman Vincent Peale doesn't believe that you can control the things that happen to you. However, just like him, he believes that you can control your reactions to these happenings. And if you're reacting in a positive manner, you can be certain that you can expect a more positive outcome.
In addition, the book is much more than a theoretical analysis; it's also a list of practical ideas which can help you transform your negative thoughts into positive energy.
Once and for all.
#12. "Awaken the Giant Within: How to Take Immediate Control of Your Mental, Emotional, Physical and Financial Destiny!" by Tony Robbins
Tony Robbins
is a motivational powerhouse. In fact, just seeing him or hearing him talk may be enough to realize that he's all kinds of a powerhouse. And "Awaken the Giant Within" – in itself, a giant 600-page book – is probably his best-known and best-loved book.
Now, Robbins's infomercials and seminars are so ubiquitous that, as it's only natural, many have started growing tired of him. In fact, quite a few readers have blamed him for being unoriginal and merely borrowing other people's ideas, before digesting them in a friendlier manner.
Blame us for populism as much as you want to, but that's the best part about "Awaken the Giant Within." Just think of your teachers: those who taught you most were probably those who managed to motivate you the best.
Not those who knew the most about a certain subject.
#13. "Now, Discover Your Strengths" by Marcus Buckingham and Donald O. Clifton
"You can be anything you want to be" – is not something you'll hear
Marcus Buckingham
and
Donald Clifton
say anywhere in their books or seminars. In fact, they think that this is the worst advice anyone can give anybody.
However, the fact that you can't be some of the things you want to be isn't at all bad. It's, in fact, a freeing revelation. Because, it means that you can finally start focusing on your strengths. Which you most definitely have.
As its title suggests, "Now, Discover Your Strengths" aims to help you find them. And it does this via the Internet-based StrengthsFinder Profile, based on a multimillion dollar 25-year-long study. Once you buy your book, you'll discover your unique number to use the program.
And after going through the internet analysis and discovering your strengths, you are advised to come back to the book and find the best way to use them.
Very unique, "Now, Discover Your Strengths" is not only groundbreaking, but also an extremely useful book.
#14. "The Subtle Art of Not Giving a F*ck: A Counterintuitive Approach to Living a Good Life" by Mark Manson
Mark Manson
is a 33-year-old blogger and the founder and CEO of Infinity Squared Media LLC. So, it's safe to say that he's someone the millennials will relate to very easy. But, judging by Elizabeth Gilbert's kudos to him in "
Big Magic
," it seems that his ideas and style transcend both generations and expectations.
And you can tell from the book title why we had to write that introduction. Manson is not a guy who'll sugarcoat his words or his messages. And, albeit "The Subtle Art of Not Giving a F*ck" cites academic studies as well, very early on you get the feel that this book is the best (unsubtle) proponent of the message he's trying to relate to his readers.
Namely, that life is unfair and that no matter how much you try to make it right, it will certainly find a way to hit you with a hammer at the least convenient moment. Your job is to find a way to absorb the blow.
And not giving a damn about 99% of the things you are – is the best way to do it.
#15. "The Power of Now: An Incredible Masterpiece of Spiritual Enlightenment" by Eckhart Tolle
And now – for something completely different.
After the profane humor and the blasphemous "to-hell-with-positivity-it's-actually-your-fault" messages of "The Subtle Art of Not Giving a F*ck," we move on to a mindfulness classic, Eckhart Tolle's guide to spiritual enlightenment, "The Power of Now."
Translated into more than 30 languages and recommended by Oprah Winfrey on numerous occasions, "The Power of Now" is one of the best manuals you'll ever find on how to conquer your ego and let go of your worries.
A mixture of Buddhism, mysticism and New Age, "The Power of Now" suggests that about nine tenths of your anxieties come not from things which are happening, but of things which have happened or might happen.
And this is something you can – and should – change. Because, living in the now doesn't merely mean brushing off emotional worries from the past; it also means living a much happier and more fulfilled life.